Cologne Declaration 2017
The Cologne Declaration was crafted by the participants at the 2017 Water Security and Climate Change Conference.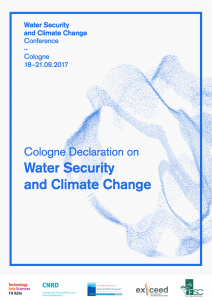 WSCC Program booklet 2017
You can download the Program as a PDF here. All conference participants will be provided with a printed copy.
Book of Abstracts 2017
Please note that in an attempt to keep the conference paperless (as far as possible), there will be no printed version of the Book of Abstracts provided at the conference. Instead, a PDF version will be handed out on a USB drive. You can download the PDF here, and if you wish, print out your own copy to take with you for reference.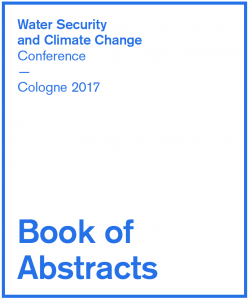 Presentations by Conference Participants of the WSCC 2017
Poster and Presentation Templates
Dear conference participants,
here you can find downloads of a Presentation Template, a Poster Template and the WSCC Logo. We hope you make use of them as they would give the conference a unified visual experience. Please note that the templates present a rough structure, which serve as an orientation but should not restrict the integration of your content.
The WSCC organization team will not provide a poster printing service. Please bring your poster (Din A0) printed to the conference.