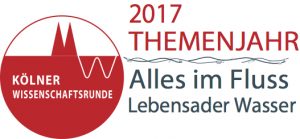 In 2017 the Cologne Academic Year is dedicated to the subject water and offers a diverse program with many interesting presentations, discussions, excursions and sessions. The program includes a variety of topics, including the water supply in Africa, flood control, water shortage and its relation to migration, as well as water contamination and wastewater treatment. The WSCC 2017 conference is part of this event series, creating a space for discussion and reflection on water security and climate change.
For more information on the Cologne Academic Year, visit the website of the Cologne Science Forum or download the program flyer providing an overview of the events occuring this year.
---
"Between Lack and Excess: Regional and global Strategies in Coping with Impacts of extreme Weather Events"
On the 6th of April, 2017, the Cologne Volkshochschule (VHS) in cooperation with CARE Deutschland-Luxemburg e.V. will organize a panel discussion under the topic "Between Lack and Excess: Regional and global Strategies in Coping with Impacts of extreme Weather Events" – (German: Zwischen Mangel und Zuviel des Guten: Regionale und globale Strategien im Umgang mit den Folgen von Extremwetter). The consequences of the climate crisis are already noticeable worldwide, impairing the environment and the economy. The global population living in poverty are among the most affected, as often neither technologies, financial resources, nor the know-how in dealing with the disastrous increase of natural disasters are available. Droughts, floods and storms lead to crop failures, devastate whole landscapes, and evade people's livelihoods. Rising sea levels threaten coastal regions and entire cities. The resulting lack of perspective forces a migration of millions of people. Scientists warn that a further rise in temperature by a few degrees will lead to a massive intensification of the current situation. This applies not only to the global South, but also to Germany. Heavy rain, floods and other extreme weather force fire brigades and other sectors to develop new strategies for the protection of people, the environment and property.
As emergency relief coordinator Wolfgang Tyderle of the organization CARE will introduce the subject and give a special focus on the global South. Dr. Ines Dombrowsky from the German Development Institute (DIE), Marc Daniel Heintz from the municipal drainage operation service of Cologne and Dr. Georg Kippels MdB, Member of the Parliamentary Committee on Economic Cooperation and Development of the German Bundestag will discuss the topics of resilience and adaptation. Sarah Brasack of the "Kölner Stadtanzeiger" will moderate the program.
The event will take place at the FORUM Volkshochschule starting at 7:00 pm to 8:30 pm, the entrance is free of charge.
Further information on the session can be found on the VHS website.